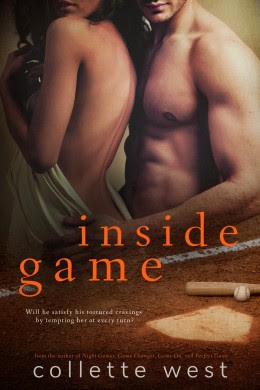 Publication Date: July 10, 2015
Third baseman Drake Schultz is the undisputed bad boy of the New York Kings. So it's no surprise when Major League Baseball suspends him for taking performance-enhancing drugs. Furious with their superstar, the front office issues an ultimatum: either work with their sober companion or kiss the rest of his quarter-billion-dollar contract goodbye. Cocky and arrogant, Drake resists being saddled with a live-in babysitter—even one he's insanely attracted to.
Drake is Eva Sloane's first celebrity client as a substance abuse counselor, and she knows she's in trouble when he starts tempting her at every turn. The way he looks at her is as hot as sin, but she refuses to become his new drug of choice. Slowly, she helps him realize he has to face the demons from his past and heal his tortured spirit before he can even think about satisfying any craving he has for her.

A New York Kings T-shirt jersey
(reader's choice of Drake, Scott, Jilly, Brooks or Chase) – US only
A Signed Paperback of Inside Game – US only
$10 Amazon Gift Card – International
Collette West
Collette West grew up as somewhat of a jock-nerd hybrid. Entering the world three weeks premature, her dad nearly missed her birth because he had seats behind the dugout for a sold-out, highly-anticipated match-up between two of baseball's biggest rivals. Not to be outdone, her book-loving mom taught her how to read by the time she was three. A love of the game coupled with an appreciation for the written word were instilled in Collette's impressionable brain from a young age. No wonder her characters believe in the philosophy: sports + romance = a little slice of heaven.
Splitting her time between the Pocono Mountains and Manhattan, Collette indulges her inner fangirl by going to as many games as she can from hockey to baseball and downloading every sports romance novel in existence onto her iPad. When she's not clicking away on her laptop, she enjoys walking her dog in Central Park, satisfying her caffeine craving at the Starbucks on Broadway and keeping an eye out for Mr. Right. But above all, she loves dishing with her readers. Email her at collette_west@yahoo.com.
She is the author of NIGHT GAMES and GAME CHANGER.
Author's Links
5 Stars
Inside Game was everything I wanted and could have asked for in a sports romance book. Dramatic. Suspenseful.  Intoxicating.
I have been waiting for this book since I started reading about the men of the New York Kings baseball team. I was more than a little curious to know what was going on with Drake Schultz. Why was he so bitter and angry? Had he been scorned by a woman? Was he living with a terrible secret or tragedy from his past? What made him so mean? But more than wanting to know all of that, I was desperate to meet the person who would help him heal.
Drake's story was awesome. Not only did my opinion of him change completely, I ended up really liking this character.  He earned my respect which surprised me after reading the other books.  With each new chapter, I had a better insight to what caused his issues and life complications. It's an incredible plot.
Drake's drama is coupled with his budding romance with Eva, his sober companion. Eva has no clue what she has meant to Drake over the years but she's nervous about what she is becoming to him now because their relationship cannot happen.  She's committed to helping him even at the cost of her own feelings.  The two fighting their lust is almost as spectacular as when they give into it.
Their story makes for an exceptional read.  It's intense and enticing.  The connection between Drake and Eva leaps off the page and you feel their attraction to one another.  I absolutely loved it and definitely suggest you check it out.  Inside Game is a top recommendation from me as are all of the other books in this series.