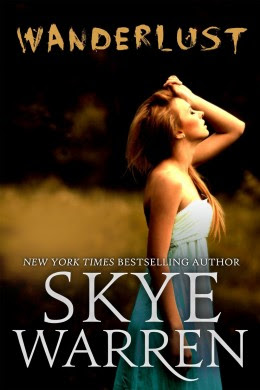 Publication Date: April 14, 2013
Can love come from pain?
Evie always dreamed of seeing the world, but her first night at a motel turns into a nightmare. Hunter is a rugged trucker willing to do anything to keep her – including kidnapping. As they cross the country in his rig, Evie plots her escape, but she may find what she's been looking for right beside her.
Wanderlust is a dark erotic novel that explores dubious consent, captivity, and power play. Not intended for those uncomfortable with the subject matter or under 18 years of age.
$20 Amazon Gift Card
Skye Warren
Skye Warren is the New York Times and USA Today Bestselling author of dark romantic fiction. Her books are raw, sexual and perversely romantic.
Author's Links
4.5 Stars
Wanderlust was my first audible book – ever. I was excited and nervous as to see how much I would like the book – listening to it versus reading the story. I'm a huge Skye Warren fan, so I knew I would enjoy her characters and plot but I felt this would be a completely different way to experience her vision.
Holy freaking crap. I am not sure I could have possibly picked a more emotionally rough or darker story read to listen to.  IT WAS INTENSE. Gripping. I found myself parked at my grocery store listening – for over an hour one day. (I was almost late picking my daughter up at preschool)  It was an all consuming story.
Because of Evie. Oh my Evie. She might be the most lost and lonely character I have ever met. For whatever reason, she attracts lowly and despicable characters – maybe they can sense how sheltered and innocent she truly is at her core. But do not underestimate Evie  – she carries this strength and courage. It's incredible. Her journey with Hunter is not one I will ever forget.
Overall, I truly feel like I experienced this book.  Evie's voice and her world haunted my home and life for days.  It wasn't a typical romance and I didn't swoon or wish it was me as Evie.
Wanderlust is not an easy book and describing it to others is difficult. I don't want to give anything away because it might lessen the emotional impact if you're prepared but sweet baby Jesus, BE PREPARED. Be prepared to have your heart hurt. Be prepared to be turned on stuff that will leave you feeling – is it wrong that I think this is hot?!
Be  prepared to enter into their darkness, because once you're in, you are there until it's finished.
 *****
On a side note, I think this would probably be a 5 star review if I can read the book.  I didn't always like the way the person read the story so it took away from it. Honestly, I'm not sure that I will continue getting audible books – in fact, I think I would like to re-read Wanderlust but actually read it. I think I would like the comparison of reading this story after listening to it.