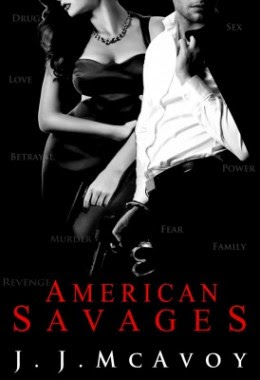 Publication Date: March 19, 2015
Genres: Contemporary, Romance, Suspense, Thriller
The final book in the Ruthless People series is here…
"Villains by Choice."
Betrayed. Melody is nowhere to be found, Liam is in jail, and the Callahan family is cracking, just as Avian Doers, the FBI Director and puppet master behind their downfall, planned.
But just because they're down doesn't mean they're out. To fight back, Liam and Melody will have to put everything on the line. The kid gloves are coming off, and no one is getting out alive. Nothing will compare to the reign of terror that is about to envelope the entire country. First they were Ruthless, now they are pure Savages. The end is here, and no one is safe…
RUTHLESS PEOPLE (BOOK ONE)
THE UNTOUCHABLES (BOOK TWO)
(2) Signed prints of
Ruthless People, The Untouchables, and American Savages.
(US, UK, CA, and AU only).
J.J. Mcavoy
J. J. McAvoy first started working on Ruthless People during a Morality and Ethics lecture her freshman year of college. X number of years later, she is an insomniac who has changed her major three times, and is a master in the art of procrastination. If you ask her why she began writing, she will simply tell you "They wanted to get their story out."
She is currently working on her next novel . . . so please bug her on Twitter @JJMcAvoy
Author's Links
6 Stars
I always dread the third book in a series.  You start reading, feeling so much anticipation and personal desire for what you want for the characters.  Because when I read I get emotionally connected to the characters – I am completely invested and addicted to their world.  I want and need the author to do right by them.
Holy crap – J.J. McAvoy delivered.  This book blew me away.  J.J. brought her A game and wrote the most epic conclusion that her fans could possibly ask her. I laughed. I lusted after made up characters. I celebrated vengeance and determination. I cried. (Big freaking ugly crocodile tears.) The Callahan's world became the only thing I saw for hours and I loved every moment.
The book brings you right to where book two ended. From that moment on the story begins, it moves at a fast pace – the plot revolves around the family's current drama and the ultimate battle against their demise. It's an intense and crazy ride.  From one emotional scene to the next you're unable to put the book down until you've reached the conclusion. I devoured it all.
Reaching the ending of the Ruthless People series left me feeling incredibly sad but so completely satisfied. It's a group of characters that I will revisit and enjoy again. I cannot recommend this series enough.